This Store Is Currently Closed
We have had to temporarily suspend ordering due to the effects of the Corona Virus.
We apologise for the inconvenience this causes but, as we're sure you will understand, we had no option given the circumstances.
We will reopen as soon as we can.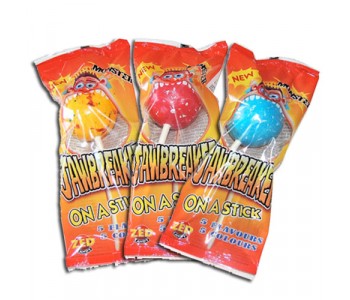 If you like your Gobstoppers to be a little on the large side then look no further than these Monster Jawbreakers Gobstoppers on a Stick and there's five different fruity flavours and colours in each pack.
The problem with BIG Gobstoppers has always been that they're often bigger than your Gob so these Monster Jawbreakers provide the perfect solution - stick 'em on a stick! - Now does that make them into a lollipop or are they still a Gobstopper? Try them and you decide. Either way, they taste good and they're guaranteed to keep the kids quiet for hours and hours and hours...
Monster Jawbreakers Gobstoppers on a Stick - 18 Pack
Monster Jawbreakers Giant Gobstoppers on a Stick - 18 Pack