This Store Is Currently Closed
We have had to temporarily suspend ordering due to the effects of the Corona Virus.
We apologise for the inconvenience this causes but, as we're sure you will understand, we had no option given the circumstances.
We will reopen as soon as we can.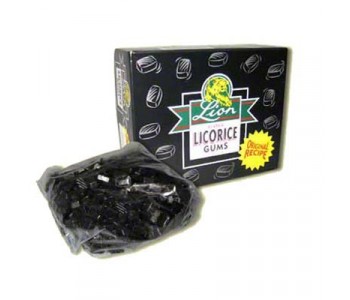 Lion's Classic Licorice (Liquorice) Gums made using Lion's original recipe.
The lion Confectionery Company was originally founded in 1903 in Cleckheaton, West Yorkshire and Lion Sweets and Gums are still made in the same way they were back in 1903 when the Lion factory first opened.
The 'experts' generally regard Lion Gums and Pastilles as the benchmark from which all other gums and pastilles are judged. They are particularly famous for their firmer texture and longer lasting fruit flavour. This is achieved through Lion's traditional cooking process, know as 'slow stoving'.
So, if your looking for the best Gums and Pastilles, then try Lion. They may cost a little more but we believe they're worth it.
Lion Original Licorice Gums - 2Kg Wholesale Pack
Lion Original Recipe Licorice (Liquorice) Gums - 2 Kg Pack