This Store Is Currently Closed
We have had to temporarily suspend ordering due to the effects of the Corona Virus.
We apologise for the inconvenience this causes but, as we're sure you will understand, we had no option given the circumstances.
We will reopen as soon as we can.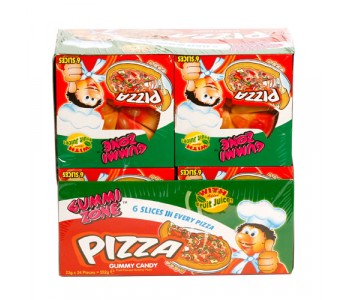 Pizza anyone? Well, if you fancy giving the kids a pizza when you next throw a party, then why not offer these delicious Jelly Fruit Pizzas. They're individually wrapped mini pizzas that look just like the real thing (only in miniature!). They're made with added fruit juice too so they're extra juicy.
Each mouth-watering Fruity Pizza is ready sliced into six pieces. The packaging is attractive and they're perfect to hand out at parties or as a party bag filler or for simply keeping from the kids and enjoying on your own, after all, everyone loves a Pizza!
Jelly Pizza with Added Fruit Juice - 24 x 23g Individually wrapped Pizas per pack
Jelly Pizza with Added Fruit Juice - 24 Pack