This Store Is Currently Closed
We have had to temporarily suspend ordering due to the effects of the Corona Virus.
We apologise for the inconvenience this causes but, as we're sure you will understand, we had no option given the circumstances.
We will reopen as soon as we can.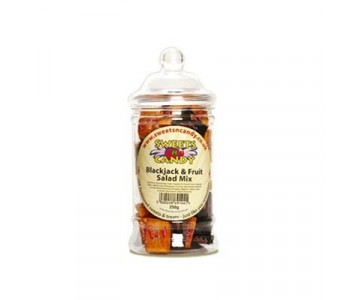 Barratt's Blackjacks and Fruit Salads packed in an attractive Victorian style jar with screw-on top. Perfect for presents or simply scoffing on your own!
Made with the finest ingredients
Great for Gifts
Attractive Victorian Style Jar (not glass)
Approximately 250g of Barratts Blackjacks and Fruit Salads per jar
Blackjack and Fruit Salad Mix - 250g Victorian Jar