This Store Is Currently Closed
We have had to temporarily suspend ordering due to the effects of the Corona Virus.
We apologise for the inconvenience this causes but, as we're sure you will understand, we had no option given the circumstances.
We will reopen as soon as we can.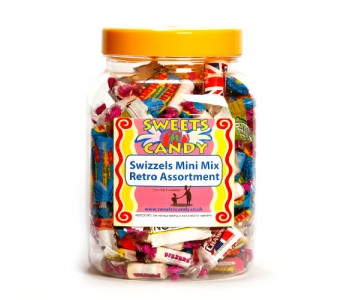 Swizzels Mini Mix Retro Sweets Assortment is a great way to enjoy all the old fashioned , traditional sweets that you remember from your childhood days. All in miniature!
You'll find all the old favourites you remember from your childhood; Love Hearts, Fizzers, Refreshers, etc. The list goes on!
This Jar of Swizzels Mini Mix of Retro Sweets contain approximately 1Kg of sweets, all individually wrapped. Great for parties or events or it could be the perfect gift for the sweet lover in your life or just for fulfilling your own personal guilty sweet pleasures... yum yum!
Swizzels Mini Mix Retro Sweets Assortment - Approx. 1Kg per Jar
A Jar of Assorted Swizzels Mini Mix Retro Sweets - 1Kg Jar