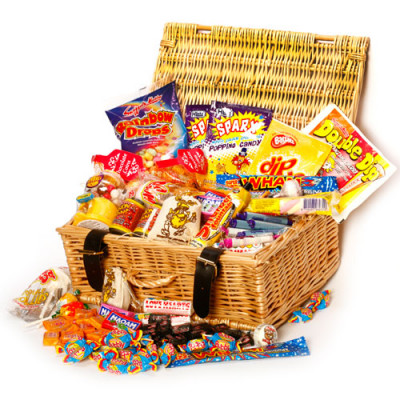 Sweets are always a popular gift so why not give someone you care about one of our big Wicker Gift Hampers  stuffed with some of the best, classic retro sweets you'll find anywhere.
Each luxury wicker Retro Hamper contains a massive mix of most of the classic, old fashioned sweets that most of us remember from our childhood. Typically, each hamper contains an assortment of the following retro sweets;
Blackjacks - 100g
Fruit Salad Chews - 100g
Maoam Minis - 6
Anglo Bubbly - 100g
Gold Nuggets - 2 Bags
Milk Chocolate Gold Coins - 100g
Swizzels Mega Double Lollies - 2
Candy Cans Sherbet - 2
Barratt Dip Dabs - 1
Popping Candy Sachets - 2
Mini Gumball Machine - 1
Rainbow Drops - 1
Marshmallow Twists - 2
Sherbet Fountains - 2
Swizzels Retro Assortment Mix (Love Hearts, Fizzers, Parma Violets, etc.) - 100g
Wham Original Chew Bars - 2
Double Dip Lollipops - 1
Although we do our best to fill each hamper with the items listed above, this list is for guidance only as sometimes we made need to make substitutes if certain products are unavailable. However, we will always substitute with items of an equal or greater value.
The hamper basket has been carefully chosen for its quality and appearance and would make a fantastic gift in itself but when its filled with sweets it makes the perfect present that everybody can appreciate.
Total weight of the hamper is approximately 1.75 Kg
The Dimensions of the hamper are: 320mm long x 220mm wide x 140mm deep (Approx.)
Retro Sweets Assortment Gift Hamper - Medium