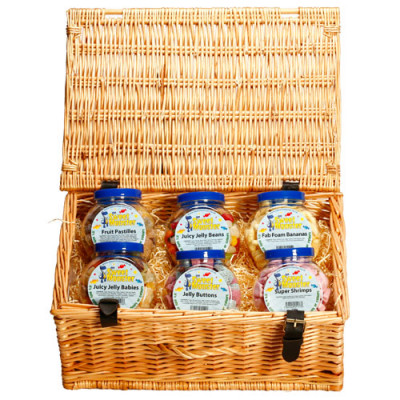 Sweets are always a popular gift so why not give someone you care about one of our large Wicker Gift Hampers contain 6 Mini Sweetshop jars filled to the brim with some of the best retro sweets you'll find. In addition to being a fabulous selection, all the sweets in this hamper are free from artificial colours and flavours too.
Each luxury wicker hamper contains 6 jars of some of the our best selling, retro favourites. There's one jar of each of the following;
Jelly Buttons
Fruit Pastilles
Jelly Babies
Foam Shrimps
Jelly Beans
Foam Bananas
Each re-usable jars each contain between 500g to 300g of sweets (depending upon the product). These jars are not made of glass for weight and safety reasons and the selection shown above may vary slightly depending on stock availability.
The hamper basket has been carefully chosen for its quality and appearance and would make a fantastic gift in itself but when its filled with sweets it makes the perfect present that everybody can appreciate.
Total weight of the hamper is approximately 3.4 Kg
The Dimensions of the hamper are: 420mm long x 290mm wide x 180mm deep (Approx.)
Retro Favourites Sweetshop Jars Gift Hamper - Large