This Store Is Currently Closed
We have had to temporarily suspend ordering due to the effects of the Corona Virus.
We apologise for the inconvenience this causes but, as we're sure you will understand, we had no option given the circumstances.
We will reopen as soon as we can.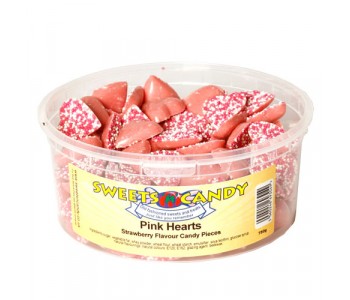 Pink Hearts. The perfect way to say "I love You" so why not buy that special person in your life a tub of Pink Hearts and then ask them to share the love! Mind you, once you've tasted one of these delicious strawberry flavour candy pieces, with a sweet crunchy topping, sharing will be the last thing on your mind!
Perfect for Wedding Favours, Valentine's Day gifts, Mother's Day, Father's Day or any special occasion where you want to say that you care for someone. Try these Delicious strawberry flavour candy pieces .
Strawberry Flavour Pink Hearts - Approx. 750g per Tub
Pink Hearts Strawberry Flavour Candy Pieces - 750g Tub