This Store Is Currently Closed
We have had to temporarily suspend ordering due to the effects of the Corona Virus.
We apologise for the inconvenience this causes but, as we're sure you will understand, we had no option given the circumstances.
We will reopen as soon as we can.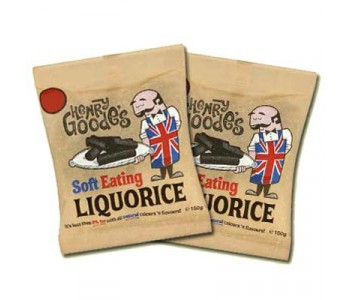 Everyone who tried Henry Goode's deliciously soft Eating Liquorice agrees it's the finest tasting liquorice ever! Liquorice just isn't liquorice unless it's made right here in Britain in the time honoured tradition.
Henry Goodes's Liquorice not only has the most wonderful flavour but it's less than 2% fat and contains no added salt! and its made with the most authentic ingredients including Blackcurrant and Raspberry, guaranteed to tantalise the taste buds!
Natural Colours and Flavours
Suitable for Vegetarians
12 x 140g Pack per box (That's 1.6Kg of Liquorice!)
Henry Goode's Soft Eating Liquorice - 12 x 140g Pack