This Store Is Currently Closed
We have had to temporarily suspend ordering due to the effects of the Corona Virus.
We apologise for the inconvenience this causes but, as we're sure you will understand, we had no option given the circumstances.
We will reopen as soon as we can.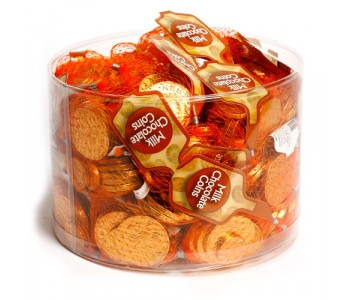 These Gold Coins Milk Chocolate Money are packed 60 nets per tub. . Approx 7 coins per net, (420 per tub approx) They are assorted sizes between 37mm and 27mm diameter. The embossed images are very clean and sharp - altogether, an extremely high quality product.
60 x 25g nets per tub
Gold Coins Chocolate Money in Nets - 60 x 25g Nets