This Store Is Currently Closed
We have had to temporarily suspend ordering due to the effects of the Corona Virus.
We apologise for the inconvenience this causes but, as we're sure you will understand, we had no option given the circumstances.
We will reopen as soon as we can.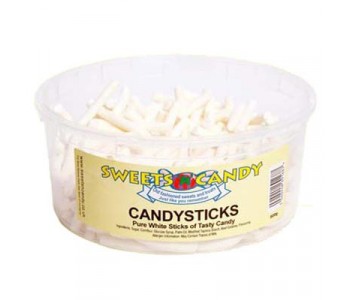 Candysticks are pure white sticks of candy similar to the Candy Cigarettes that you used to be able to buy until we went all 'PC'. They're not too hard to chew in fact the Candysticks are quite soft really and the do actually taste really good too.

A great novelty sweet for parties, events or even as wedding favours.
No Artificial Colours
No Artificial Flavours
Approx 500g of Candysticks per 1.5Ltr Tub
Candysticks Pure White Candy - 1.5Ltr Tub (500g)