This Store Is Currently Closed
We have had to temporarily suspend ordering due to the effects of the Corona Virus.
We apologise for the inconvenience this causes but, as we're sure you will understand, we had no option given the circumstances.
We will reopen as soon as we can.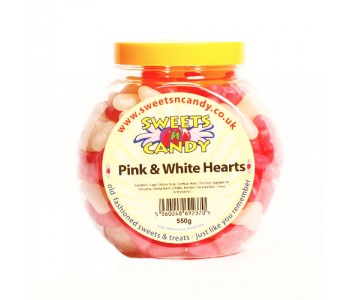 Barratt's produce some of the best tasting sweets that money can buy and these Pink and White Hearts are no exception. Imagine the texture of a Jelly Beans but in the shape of a heart - then you've got it... Pink and White Hearts!

These are just perfect for Valentine's Day and great for Wedding Favours too - all packed into a traditional style gift jar (not glass). Plus they're free from artificial colours and flavours.
No Artificial Flavours
No Artificial Colours
Pink and White Hearts - Approx. 550g Jar
Barratt Pink and White Hearts - 550g Jar